We have answers to all the big questions about the best type of mattress for toddlers and children
Here at Eco Kids, we make it our business to learn everything we can about picking the right mattress for your child. All that information is vital, so we can make the best mattress for kids. We're thoroughly proud of the mattresses we make. And now, through the medium of this article, we can share with you all that we've learned in the process.
We'll answer your pressing questions like:
What size should your kid's mattress be?
Are mattress protectors worth it?
What makes an organic kid's mattress special?
What is the right size of mattress for a bunk bed?
Are there any features one should look for when buying a bed for a child with allergies?
How often should you replace a kid's mattress?
And that's just for starters. Read on, and discover everything you've ever wanted to know about kid's mattresses (plus a bit more). In the end, you'll be able to choose the best type of mattress for your kids, every time.
We've used all of our expert knowledge to build the Eco Kids mattress. Find out more about the Eco Kids mattress and all its incredible features.
What is the right size mattress to get for my child?
There are many considerations to take into account when choosing the best mattress for your child.
Available space: Some rooms simply aren't large enough to accommodate a double bed. If square meterage is particularly small in your child's bedroom (or if the location where you're planning on placing the bed is unusually small) then this might impact the size of mattress you purchase.
Finance: Larger mattresses require more materials for their construction, so they end up costing more than smaller mattresses. Other costs can also add up, with a higher cost of sheets, bed bases, mattress protectors, etc. If price is a concern, it pays to skew on the smaller side when selecting a mattress size.
The size of the child: Some kids are bigger than others. While a regular single mattress might be suitable for a child of average height, this might be unsuitable if your offspring is a professional basketball player in the making! Take the size of the child into account when selecting your mattress size, so they don't have to endure the indignity of having their feet hang over the edge of the bed. And remember: kids are growing all the time — so the right mattress size for today might not be suitable tomorrow. It might be worth planning for the future and getting a larger mattress, so it can last longer.
To accommodate these variables, we sell a range of different sizes. These are:
Single (188 cm x 92 cm x 21 cm)
King single (203 cm x 92 cm x 21 cm)
Long single (203 cm x 107 cm x 21 cm)
Double (188 cm x 138 cm x 21 cm)
What are the best mattresses for different ages?
This is an important consideration for many families. You want to buy the right size mattress for your child, but you don't want them to grow out of it too quickly. Here's our quick guide to choosing mattresses for different ages.
Best full size mattress for a toddler: Single
Best full size mattress for child: Single
Best full size mattress for a 3-year old: Single
Best full size mattress for a 5-year old: Single
Best full size mattress for a 9-year old: Long single
Best full size mattress for a 11-year old: Long single
Best full size mattress for a 13-year old: Double
How thick should a kid's mattress be?
Mattress thickness is another important consideration when choosing a mattress for a child. For comfort and practicality, mattress thickness should be between 10cm and 22cm. Thicknesses less than these parameters can be potentially uncomfortable to sleep on. If your kids' mattress is thicker, it may be difficult to manoeuvre around.
What about mattress firmness for toddlers and children?
Mattress firmness for toddlers and children might not be a front-of-mind consideration. You might not think that mattress firmness is important to children, but in reality, it is. The transition from cot to bed is a big step, and comfort should be paramount in this stage. But for safety, it's better to choose a firmer mattress over a more soft option. This allows the child to turn over with ease at night.
Are memory foam mattresses safe for toddlers?
As a rule of thumb, pure memory foam mattresses are not suitable for toddlers. Soft memory foam contours to the body of children, making it difficult for them to roll over safely at night. If you aren't sure about the safety of a particular mattress model, get in touch with our friendly customer service team for more information.
What features in a mattress are important for kids with allergies?
It can be difficult to find products that are suitable for allergy-susceptible children. From food to clothes and even mattresses, harmful chemicals seem to be everywhere. Thankfully, it's possible to find a good mattress for kids with allergies. Just be on the lookout for the following features:
Natural fabrics: Natural fabrics aren't just better for the environment — they also tend to be less harmful for kids with allergies. Many mattresses are made from synthetic foam, or use fabrics that require many chemicals. At Eco Kids, we cover our mattress with 100% natural bamboo fabric (which has the added benefit of being extraordinarily soft and breathable) over a quilted layer of certified natural cotton.
Free from harmful chemicals: When looking for kid's foam mattresses, it's important to be on the lookout for harmful chemicals. Unlike synthetic rubber, our natural Hygroflex foam is OEKO-TEX Standard 100 certified. This is the gold standard for non-harmful substances, and is much more stringently tested than national regulations. Our mattress is totally safe for direct skin contact.
Sensitive Choice approval: A company's claims are well and good, but how can you know for certain that a mattress is safe for a child with allergies? The answer is: independent verification. Sensitive Choice, for example, is an organisation that was established in 2006 by the National Asthma Council Australia. They're impartial, and are dedicated to helping people with asthma and allergies find suitable products. At Eco Kids, we're proud to say that our mattresses are Sensitive Choice verified.
Where are your Eco Kids mattresses made?
Our Eco Kids mattresses are made right here in Australia. Specifically, they're constructed in a factory in Melbourne. To prove it, all of our mattresses have official Australian Made certification. It's a great way to support local industry, but there are other benefits of making mattresses in Australia. When companies outsource their manufacturing, they lose oversight of the process. We, however, can ensure that organic materials really are being used, that harmful chemicals really are being avoided, and that an ethical manufacturing process is taking place.
Is it worth getting a mattress protector?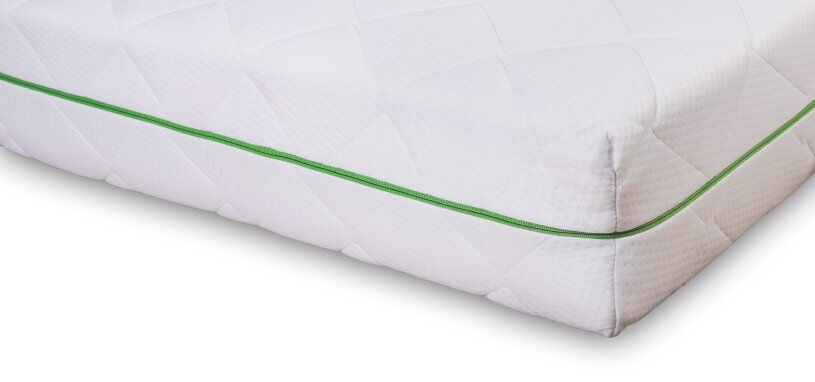 A mattress protector is a tremendous investment, especially for a kid's mattress. They're not just for kids who wet the bed (although a mattress protector most certainly comes in handy for those circumstances). Messes might occur for any number of reasons, from a freak soy sauce explosion to a bizarre red cordial mishap.
While it is possible to clean many different stains off our mattresses, it's far easier to prevent them from happening in the first place. A mattress protector is a tremendous investment and will protect your kid's mattress for years to come. And you don't have to compromise on organic and natural materials for protection. Our mattress protector is made from all-natural fabrics.
What is different about a kid's organic mattress?
Some mattresses are made with harmful chemicals and synthetic materials. These can cause allergic reactions and trouble breathing in children, not to mention their detrimental impact on the environment. An organic kid's mattress, on the other hand, should be entirely free of nasty materials.
The Hygroflex natural foam in an Eco Kids mattress, for example, is OEKO-TEX Standard 100 certified. This means that it is entirely free of toxic substances, and is fully safe for direct contact with skin. This foam is also GECA (Good Environmental Choice Australia) certified, which is only awarded to products that boast the best possible environmental standards. Plus, the Eco Kids mattress is 100% Vegan. Not a single animal product is used during manufacturing.
How should you clean your child's mattress?
Accidents happen. The best way to prevent stains on your mattress is to invest in a mattress protector, but all is not lost if a mess gets through. The right way to clean a mattress will depend on what kind of mess you're dealing with. There are tried and tested natural methods of vanquishing stains from bodily fluids, like blood, urine, and faeces. They usually just require things like vinegar, water, baking soda.
How often does a child's mattress have to be replaced?
No mattress lasts forever. In different circumstances, the right time to replace a mattress will vary. For example:
If your child is uncomfortable sleeping on their mattress: You should replace it promptly. While it might take a night or two for your kids to adjust to sleeping on a new mattress, persistent discomfort is a serious problem. At Eco Kids, we have a money-back returns policy for the first 100 nights after you take possession of the mattress. This way, we make it easy to return the mattress if the child doesn't find it comfortable.
If your child outgrows the mattress: If your child becomes too large or too heavy to sleep comfortably on a child's mattress, it's probably time to make a change. To lengthen the lifespans of our mattresses, they're able to support a weight of up to 120 kgs (and up to 150 kgs for short periods, like storytime). Additionally, they come in a range of bigger sizes like king single, long single, and double.
If the mattress gets worn out: Eventually, entropy will kick in and even the best-made mattress will have to be replaced. By buying a quality mattress, however, that date will be pushed far into the future. At Eco Kids, we back all our Australian-made mattresses with a warranty of 10 years. That's a minimum, though, not a maximum. In actuality, it may well be longer than a decade before you need to replace our kid's mattress.
Now you know what to look for, it's time to discover the mattress with the lot. Read on to find out more about the specifics of the Eco Kids mattress.